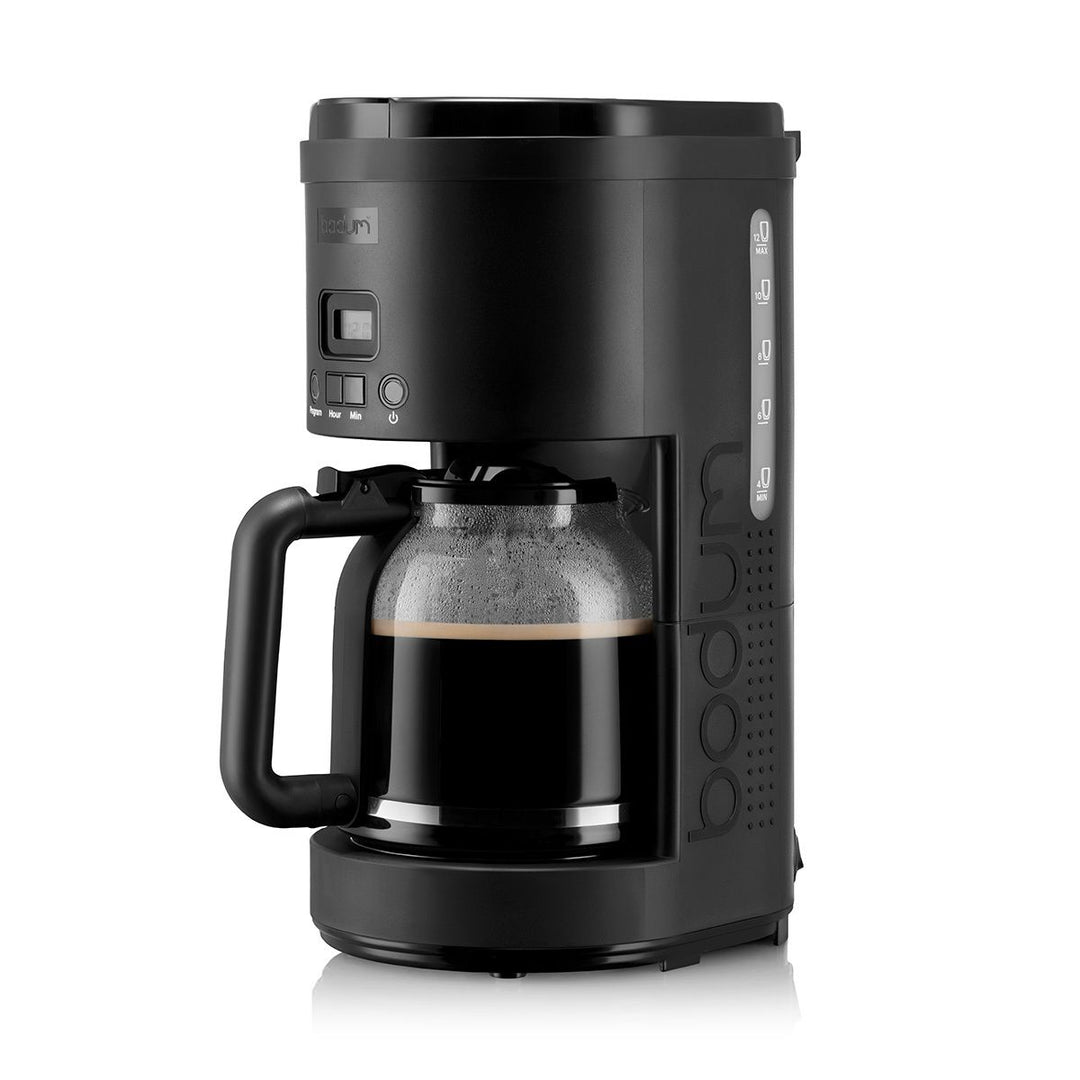 Programmable Coffee Maker | Bodum
Low stock - 1 item left

Inventory on the way
---
Wake up to the delicious aroma of freshly brewed coffee every day with the BISTRO programmable coffee maker. With a 24-hour programmable timer, your coffee will be ready when you need it, whether dashing through your hectic morning routine or in need of a mid-afternoon pick-me-up.
Our 12-cup coffee maker features a unique shower head that distributes water evenly over your freshly ground beans. Combined with a fine-mesh stainless steel filter, the BISTRO programmable coffee maker produces delicious, full-bodied coffee with a pure taste and mouth-watering aroma. Naturally it also epitomizes our sustainability motto, 'make taste, not waste'.
As an added bonus, this nifty appliance looks smart on your kitchen worktop and it features a useful heating plate to keep coffee warm for up to 25 minutes after brewing – so there's no need to rush your morning shower!
Main Features & Benefits
Programmable coffee maker that can be set up to 24 hours in advance for convenience.
Glass jug with an ergonomic, non-slip handle for easy pouring.
Brewing system uses a shower head that distributes water evenly over the beans for a balanced, flavorful taste.
Permanent, fine-mesh, stainless steel filter that results in a full-bodied aroma and pure taste, while eliminating the need for wasteful paper filters.
Stain-resistant heating plate keeps your coffee warm for up to 25 minutes after brewing.
Easy-to-read, backlit LED display.
Generous 1.5-liter capacity that brews up to 12 cups of delicious coffee.
Use & Care
Clean the appliance before first use by filling with water to the MAX level and running without ground coffee. Discard, wait ten minutes, and you're ready to brew.
The shower head, filter holder, coffee filter, measuring spoon, jug lid and glass jug can be cleaned in the top rack of the dishwasher. Clean the body of the programmable coffee maker by wiping with a damp cloth.
How It Works
Open the lid and fill the water tank to the desired level using clear, cold water, making sure it's in between the MIN and MAX level marks. Then close the lid.
Fill the coffee filter with the desired amount of ground coffee – maximum 12 Bodum measuring spoons.
Press the stand-by button to start the brewing process. The rim of the button will illuminate white, and after a few seconds water starts to flow through the shower into the filter and subsequently the glass jug.
After approximately 10 minutes, your freshly brewed pot of coffee will be ready to savor.
To use the automatic start function, press the stand-by button twice and program your machine to the time you require.
Interested in local pick up? You can choose from several shipping options - including USPS, UPS, and local pick up at check out.