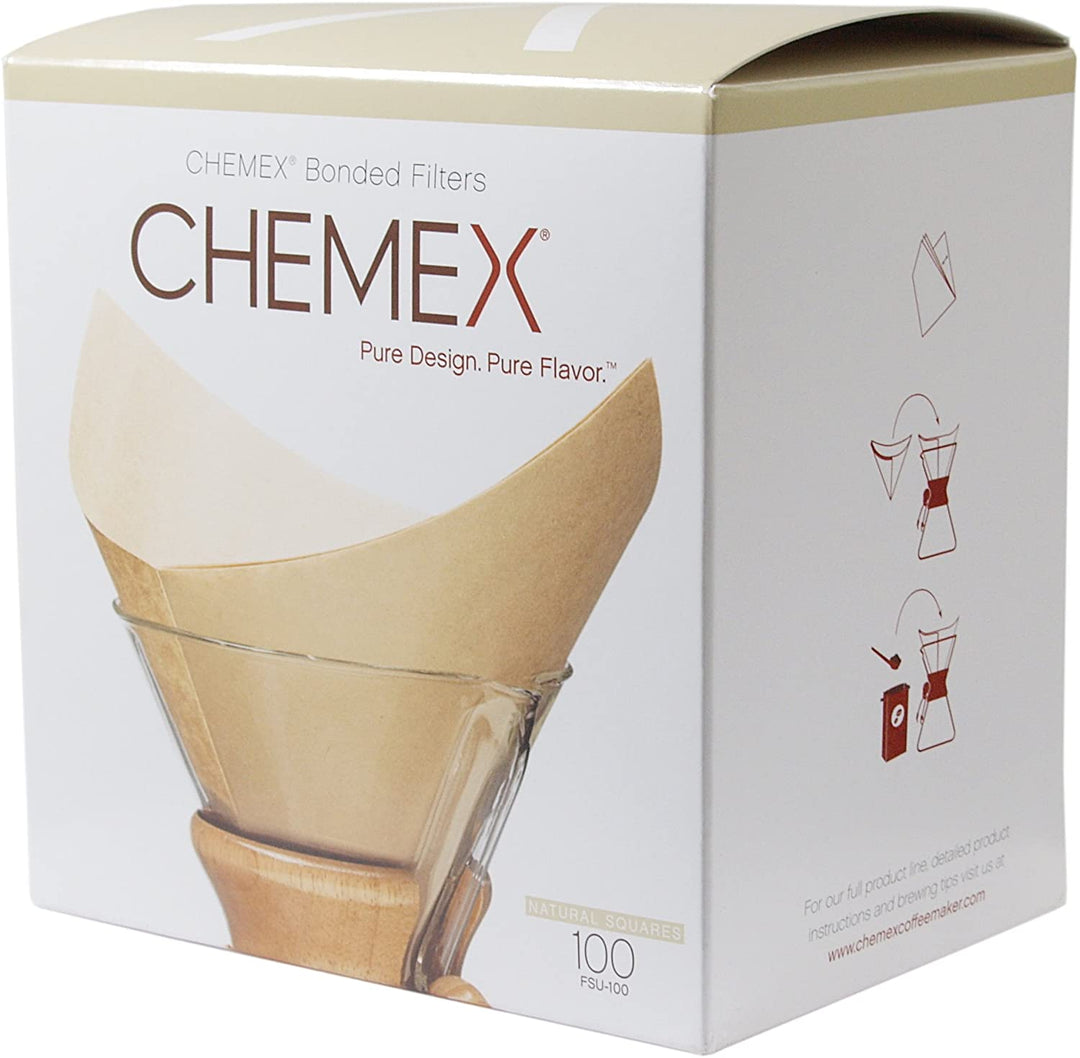 Chemex Filters - Pre Folded Square
In stock, ready to ship

Inventory on the way
---
Take your coffee brewing to new levels with Chemex Brewing. By using the Bonded Filters, you will guarantee that your pourover brewing process will deliver the perfect cup of coffee, without any sediments or bitter elements. Enjoy a slow cup of coffee at home, and taste the difference slow brewing makes. 
The key to the Chemex method is the fractional extraction of only the desirable parts of the coffee bean. Chemex-Bonded filters make this possible. They are 20 to 30 percent heavier than other filters, and filter out all sediment. They have been specifically designed to give balanced performance with the Chemex Coffeemaker.
The filter combines a very fine grain, required for holding back the coffee mud, with the right filtration speed (not too slow, not too fast) that promotes proper infusion.
The filter is designed not to burst under the weight of the liquid during infusion, and not to break when lifting out the grinds.
100 white filters per box.
Cone-shape ensures uniform extraction for pure coffee flavor
Thicker (20-30% more than the competition) specialty fiber filter design keep bitter elements, oils, and grounds in their place (and out of your cup)
Prefolded for convenience
Will fit most other cone-shaped filter coffeemakers
Removes impurities, acidity, unhealthy and bitter elements from the coffee. In your brewed cup you will find only the caffeine and desirable aromatic oils of the coffee beans
Oxygen cleansing is a bleach-free process, ensuring no chemical residue or taste is imparted to the filter
Works well with all types of roasts- even tea! Allowing you to make the perfect and most pure cup, every time
The CHEMEX® coffeemaker brewing system is a preferred method of roasters and baristas worldwide
Our filter paper is manufactured in the USA and uses only USA materials. Responsibly harvested and conforming to SFI, FSC, and PEFC sustainable programs
Compostable and biodegradable
Easy clean-up. No trays, no baskets, just simply remove the filter and discard
Fits all CHEMEX® Coffeemakers except three cup Class Series (CM-1C), three cup Handblown Series (CM-1), three cup Glass Handle Series (CM-1GH), and the Funnex (CM-FNX)
Chemex item number: FS-100
Interested in local pick up? You can choose from several shipping options - including USPS, UPS, and local pick up at check out.